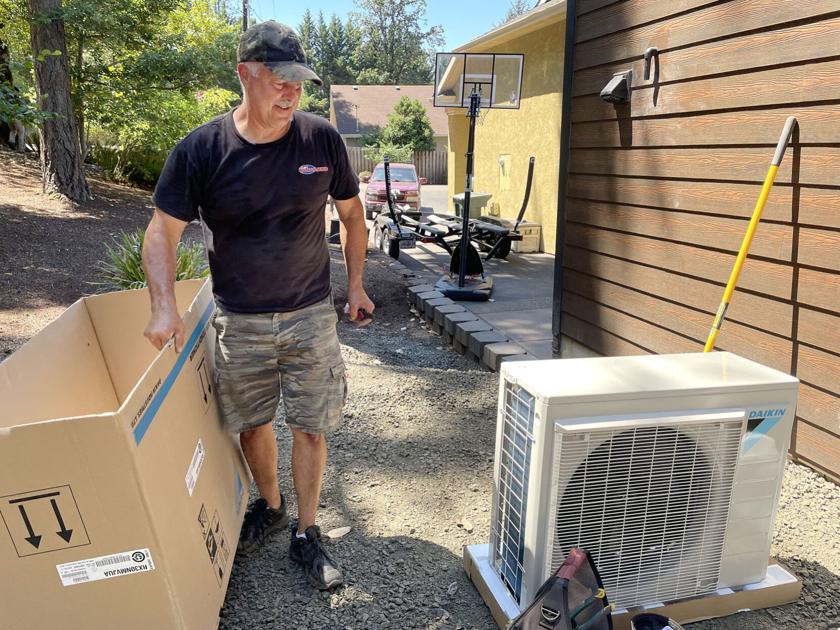 For Dave Richner, owner of Just Ductless Heating and Cooling Systems, there was barely a moment earlier this month when his phone stopped ringing.
"It was pretty overwhelming," said Richner. "It put so much strain on my phone recorder that I couldn't keep it clear. Every time I deleted it, I had twenty more calls. "
Richner also owns Richner Heating & Air Conditioning.
This influx of phone calls was the direct result of an unusual pattern of excessive heat that hovered over the Pacific Northwest in late June and early July. As temperatures hit record highs, air conditioning companies across Douglas County received an unprecedented number of service requests.
"The heat wave definitely hit the county," said Aaron Fonsen, general manager of the Addcox Heating Center.
At the extreme temperatures, which included an all-time record high of 113 on Sunday June 27, people experienced air conditioners breaking after being overloaded. Units in need of repair made up several of Fonsen and Richner's service requests.
"People out here tend to wait until their house gets very warm to get service and they wait as long as possible to cool their house," said Richner. "It seems like everyone panicked and tried everything at once."
Before visiting Mahalo Heating and Air Conditioning, Donna Morin from Roseburg did not check her air conditioning filter often.
"Ours was clogged for five years and we didn't notice and it wasn't cooling the house as it should," said Morin.
The problem is, most people don't check it out as often as they should, Morin said.
For both Richner and Fonsen, one of the biggest problems is catching up on service requests.
"I probably got about 140 or so over a three-day period," said Richner.
This resulted in Richner, who works as a two-man team, handling around 16 service calls a day – double his normal number of calls.
Fonsen said Addcox had jumped from 200 calls a week to 1,600 after the heat wave.
With the need for repairs, the waiting lists for new air conditioning systems continue to grow due to the nationwide shortage. The shortage comes after slowed production during COVID-19 and shipping delays. According to Fonsen, some local businesses vary between two weeks and two months to install new units.
The surge for more air conditioning was new because Roseburg wasn't always a city with a high need for air conditioning, Fonsen said.
"In the past, the residents of Roseburg had the attitude that we didn't need air conditioning," said Fonsen.
He now believes that will change after this summer.
"If the climate or temperature doesn't change, air conditioning will be needed," said Fonsen.
Madison Temmel is Charles Snowden's intern at The News-Review. She can be reached at mtemmel@nrtoday.com and 541-957-4217.