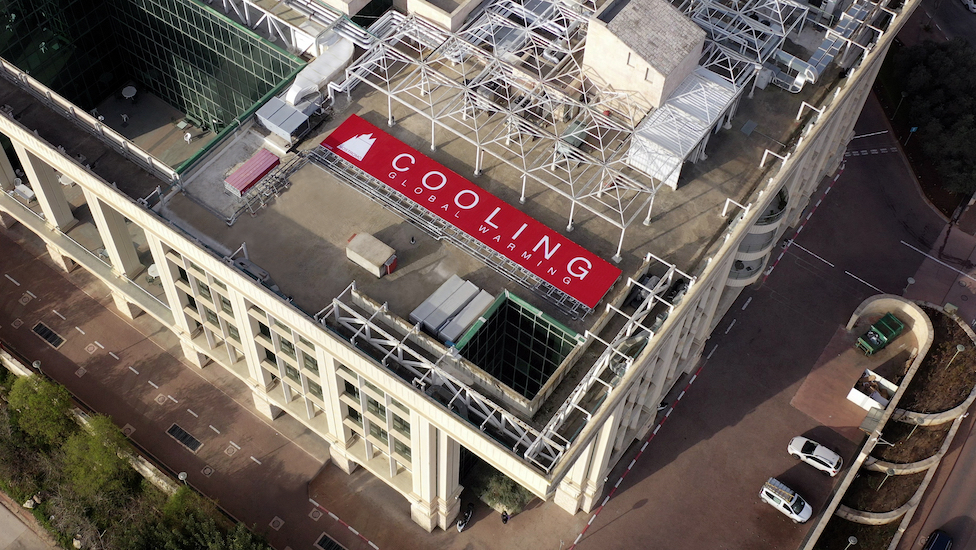 Nostromo's 600 kWh IceBrick system can be seen on the roof of the medical device manufacturer Medinol's facility in Jerusalem. Image: Nostromo.
The cooling of commercial and industrial buildings (C&I) accounts for a significant proportion of energy consumption and greenhouse gas emissions (GHGs), but according to the CTO it can be converted into "powerful energy systems" instead of burdening the grid of a company that is trying to achieve just that .
Israel-based technology company Nostromo has developed a "water-based behind-the-meter (BTM) energy storage system" that can be installed on the roofs of C&I buildings to help meet their energy needs. When charging the thermal "IceBricks" from Nostromo, the water is frozen to ice with electricity and then thawed in order to discharge the stored energy.
Yaron Ben Nun, founder and chief technology officer of Nostromo, told Energy-Storage.news that the IceBrick has a round-trip efficiency of more than 85% and can achieve a depth of discharge of 94% in every four-hour cycle . The company also claims that the equipment and its "cells" do not degrade over time, do not rely on the use of rare or critical materials to construct, and are recyclable. Ben Nun said the equipment was "modular, compact, and compatible with most commercial and industrial buildings" and "powerful enough to make a significant impact".
Citing figures from the International Energy Agency (IEA) that an estimated 40 to 45% of electricity is used to power cooling systems around the world, the CTO claimed the Nostromo solution could reduce the overall load on the grid by up to 25%. by shifting around 50% of customers' electricity needs for four to five hours at a time. It is estimated that C&I buildings collectively use about 55% of the electricity generated worldwide, but are largely excluded from many people's deliberations about moving to clean and decentralized energy sources, Ben Nun said.
"California is currently our main market. It is the most advanced state in terms of aggressive renewable energy integration goals and also offers the most affordable tariff plans for the load shifting features enabled by energy storage, "he said.
"A typical Nostromo system can store 1-5 MWh. So in California alone there is potential for tens of thousands of nostromo systems. "
This month, Nostromo will cut the ribbon for a 600 kWh demonstration project on the rooftop of a medical device manufacturer's facility in Jerusalem, Israel, and also recently agreed to install a 1.5 MWh system for the prestigious Hilton Beverly Hills and Waldorf Astoria Hotels in California, as well as a 900 kWh project for an office building and a Memorandum of Understanding (MoU) to work on projects for the shopping mall giant Westfield in the USA.
The company went public on the Tel Aviv Stock Exchange at the end of June through a merger with Somoto, a software and media services company. The IPO will help the company accelerate its market penetration and "drive widespread implementation of our technology," said Ben Nun in a statement at the time.
Ben Nun told Energy-Storage.news that Nostromo sees potential for the technology "wherever there is a need for commercial cooling: everywhere". The company can employ two different business models, both of which are based on building long-term customer relationships.
One is a no-loss plan, then Nostromo's revenue is based on the customer's energy cost savings over 20 years, much like many back-to-back lithium-ion battery storage companies share their savings with their customers when they help them around reduce their peak electricity demand. The other is to sell the systems through a distribution network to customers who are satisfied and can finance the up-front costs. Yaron Ben Nun said that in both business models, Nostromo can also generate additional income through the provision of network services, which in turn can be shared with the customer.
While the need to create more efficient and sustainable cooling, especially air conditioning, has long been talked about, Tesla CEO Elon Musk once considered that this would be a challenge he would face given the sustainability implications of energy – just a small one Handful of companies have tried to meet this challenge with various forms of thermal energy storage.
These include Ice Energy, which targeted the residential and small commercial sectors with its Ice Bear cooling technology but ran into trouble in 2019 before its technology was acquired by Thule Energy Storage, which continues to market and deploy the systems, Viking Cold which mainly markets its phase-change materials-based energy storage systems for long-distance food transport and large warehouses, Axiom, which primarily targets supermarket chains and their specific needs, and a few others such as Calmac, which are more direct competitors of Nostromo.
For technologies that provide sustainable cooling for buildings to flourish, regulators need to understand the enormous potential, said Yaron Ben Nun. Regulatory framework conditions and incentives to enable the introduction of the technologies on a large scale are required, but do not yet exist.
"Our goal is to show the world that there is a safe, inexpensive and efficient solution behind the meter," he said.
"On the customer side, too, the most knowledgeable commercial and industrial customers understand their impact on the network and are actively looking for ways to reduce costs and environmental pollution. However, some commercial and industrial companies are still not aware that they need energy storage. They don't know how cooling is negatively affecting the grid and that sustainable storage is critical in the transition to renewables. For this reason, our strategy is to find AAA customers in every customer segment so that they can become the driving force behind our technology. "